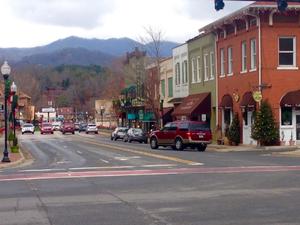 Many people have asked me, "What is living in the mountains really like?"
I'm sure we all feel the pull to own a home where we love to vacation.  After spending a few days somewhere free from the stresses of everyday life, simply enjoying our family and surroundings, what's there not to love?  But, could you live here every day or would a second home really be worth it?
It is so worth it!
I am not a "true" native of western North Carolina.  You know the ones; born, raised, and live here for the rest of their days.  I was born here and my family packed up and moved to the city when I was a baby.  We still had family here, so many summers and holidays were filled with vacations and visits to these beautiful mountains.  While I may not be a native, I came home.
There is something uniquely wonderful about the Smoky Mountains.   Communities and towns here are something special; Bryson City being the perfect example.  Here in Bryson, we are a tight knit community.  Everyone takes care of each other, is extraordinarily kind and friendly, and has deep pride in their little town. We also run on what some call "mountain time" which is the laid back easy going nature of our community.  While we are constantly having a festival, an event, a ball game, or fundraiser; we do not have the hustle and bustle of the city and that is so nice.  Here roots and history are preserved, restored, and celebrated.  We love that visitors enjoy the rich history that can be found at places like the old settler's village, the culture and history of the Cherokee can be experienced by all at the Museum of the Cherokee Indian and the Oconaluftee Indian Village, ancient stories are shared at the Storytelling Center in town, and by simply hiking through ancient forests.  We also love and appreciate our surroundings.  It is so nice to be able to enjoy the beautiful mountain views from my front yard, I get to see the most amazing morning skies, and the sunsets on my drive home are breathtaking.  I never tire of seeing these and many times, I stop and admire it's beauty and am thankful for the fact that I see this every day.  I can allow my kids to grow up not only seeing crystal clear water but they can play in our streams and see their toes.  The night skies are so clear, we can sometimes see the Milky Way.  Then of course we have all these great adventures at our fingertips.  Yes, we really do take advantage of the white water rafting, kayaking, horseback riding, train riding, mountain biking, trail hiking, scenic driving, cabin staying experiences that we advertise to you.  For many, it is an after-school or weekend adventure, while others its how we make a living and we love it!
So, if you've been thinking of making the plunge, come see us!  We will happily share with you what mountain life is really like and find the-perfect home for you.  If you'd like to stay a while and see how you like it, check out our cabin rental company, Bryson City Cabin Rentals and take an extended-vacation.  If you're interested in an investment or second home, we can share our first hand experiences with you on how it all works, we could even build you your own with our construction company, Smoky Mountain Cabin Builders.  If this is your dream, we want to help in any way to make it your reality.  Give us a call at 828-508-4391 or send us an email and we will be happy to help in any way we can.